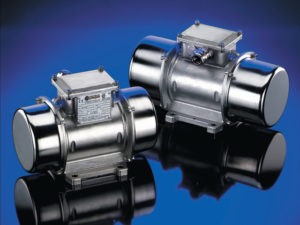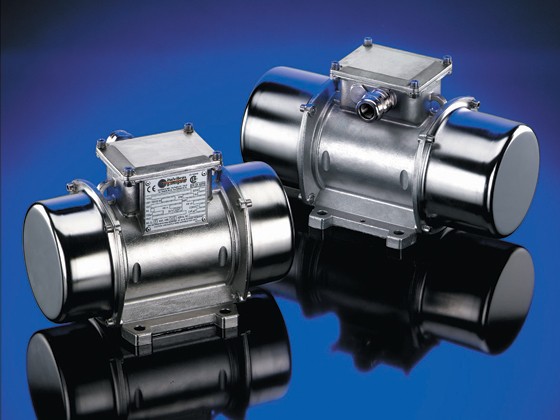 The MVSS Stainless Steel rotary electric external vibrator is a special electric motor with both ends of the shaft extended and fitted with eccentric weights. Suitable in industries where protection is required against aggressive substances Chemical – Packaging – Metallurgical – Plastics – Food Industry etc.
The motor is an asynchronous type and consists of a stator with a low loss magnetic core lamination this results in high efficiency and a low running temperature for the motor.
The casing is made of AISI 316L SS. The windings are wound to Class F insulation, and are totally vacuum encapsulated which eliminates the need for anti-condensation heaters.
The combination of a drive shaft treated to withstand high stress and the specifically designed oversized bearings enable the units to perform continuous duty with 100% centrifugal force.
Weight covers: 1.2mm or 1.5mm thick stainless steel
Eccentric weights: Lamellar or clamped stainless steel
Holes centres: Identical to the MVSI range
Mechanical strength and shock resistance: IP 66, IK08
Ambient temperature: -30° to + 40° C
Typical Uses:
Feeding – Screening – Compacting – Hopper evacuation