In the run up to Christmas, we received an unusual enquiry for BFM fittings from a workshop manufacturing a wide variety of toys and confectionery. Powder handling issues were causing problems in the top-secret production facility and there were concerns that an important deadline might be missed.
The client's workshop manager, Holly, commented: "We have a fairly labour-intensive production process, so keeping the workshop neat and tidy is really important to us. Many of the products we make, such as snow globes, contain powder and we wanted to update our old-fashioned methods."

Papa Elf and Holly
After discussion with the team at the North Pole, an initial order was placed. Our ProSpare technical experts were confident that BFM fittings would solve Holly's powder handling problems and the unique snap-in connector design would be far more efficient, ensuring that all of the toys would be ready in good time for the busiest night of the year.
Steve Hardy, ProSpare Warehouse Manager, said: "Shipping consignments to the North Pole at this time of year can be tricky but the client arranged collection using their own sleigh-based transport, complete with unique glowing headlight system. The only problem was that the reindeer left rather a mess in the car park!"
Three weeks after installation, the results have been outstanding and a delighted Papa Elf added:
"The friendly people at ProSpare have really helped us to keep the workshop clean. Mrs Claus is absolutely delighted and containing the dust is so much better for our elf and safety. We're far more elficient now so we'll be delivering our special cargo on time."
After checking his list, checking it twice, he continued: "We're planning to roll BFM fittings out across our whole operation in the new year, particularly in our Etcha-Sketch sand processing plant and the reindeer feed storage area."
After saving Christmas, we are ready for a well-earned festive break and will be closed from midday on Christmas Eve until Thursday 2nd January.
From everyone here at ProSpare, have a very merry Christmas. Ho ho ho!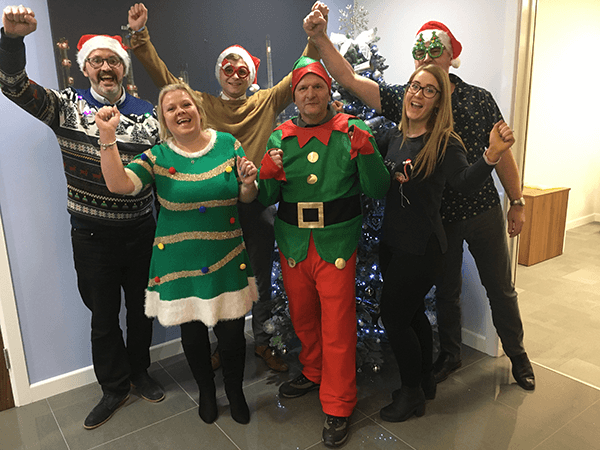 Papa Elf and Holly with the ProSpare team.